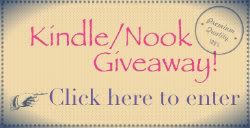 Join YA Society's Kindle/Nook giveaway~!
TODAY IS THE LAST DAY TO JOIN!!
Just click on the image above! =)
BOOK JUNKIE JOINT'S HALLOWEEN GIVEAWAY~!
a Rafflecopter giveaway
Have a chance to win Book 1 and Book 2 of Daniel Black's Saga of the New Gods series~! =)
The giveaway period has been extended up to November 9, 2012~!
To know more about this giveaway, click
HERE.